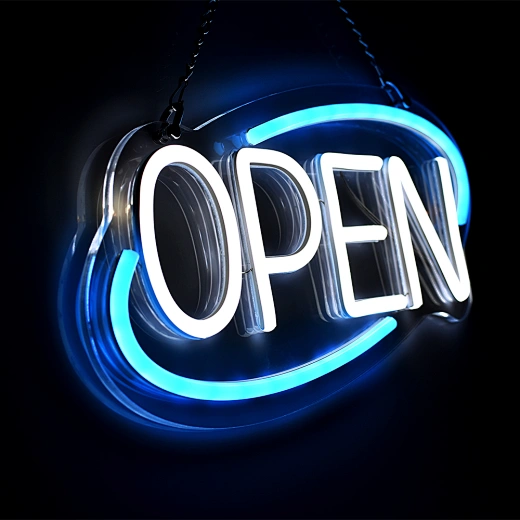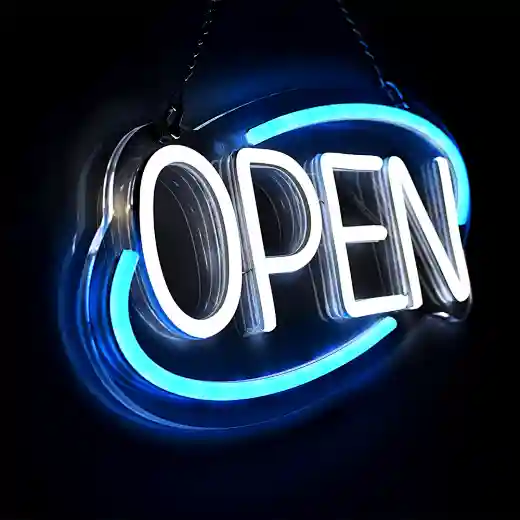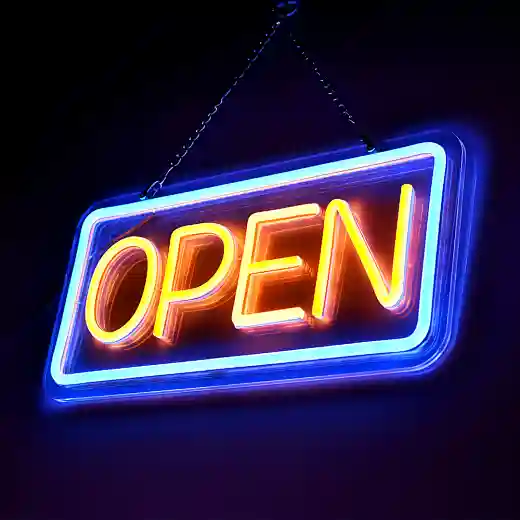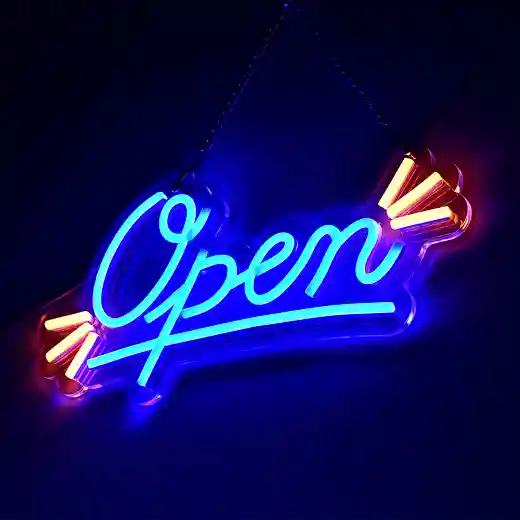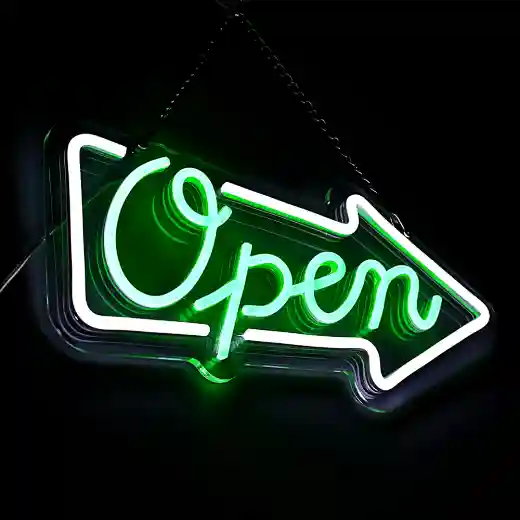 Ahorro de energía/simple/brillante y duradero. Este letrero de neón ABIERTO.
Lámparas LED de 12V. El producto utiliza un voltaje de seguridad de 12 V, que es inofensivo para los humanos. Al mismo tiempo, las perlas de la lámpara LED reducen la potencia de todo el producto y hacen que ahorre más energía.

Método de instalación súper simple. Simplemente pegue el gancho en la pared o el vidrio. Instale la cadena de hierro en la luz de neón y luego cuelgue todo el producto en el gancho. Simplemente encienda la alimentación y corra.

Backplane acrílico de 6 mm y material de silicona. Material acrílico de alta transparencia. Cuando la luz de neón esté encendida, habrá múltiples reflejos de espejo dentro del acrílico, lo que hará que toda la luz de neón brille más.
Solicitud:
El letrero de neón abierto es adecuado para escaparates, paredes, puertas y vitrinas. Tiendas de escenas aplicables, cafeterías, restaurantes, bares, clubes, hoteles, etc. Se puede regalar a amigos o proveedores que abrieron una tienda recientemente, tráigales suerte y bendiciones.
 
Características:
Voltaje seguro de 12V

Fácil instalación

fuente de luz LED

fuerte y robusto




Cada vez que llega la noche, enciende el interruptor. Obtendrás un letrero de neón brillante.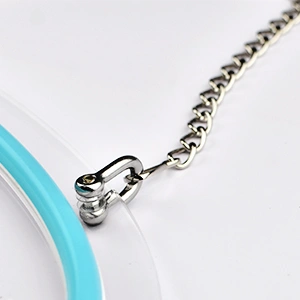 Fácil instalación

Diseño de gancho, muy fácil de instalar y mover.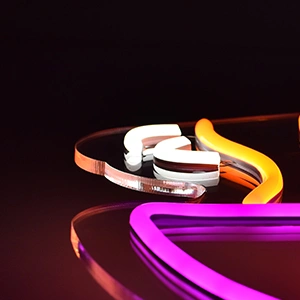 Borde brillante

La lámina acrílica de alta transparencia de 6 mm tendrá un efecto muy bueno cuando la luz esté encendida.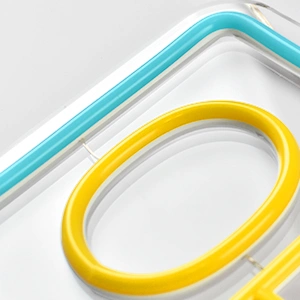 material de silicona

Material de silicona, no tóxico e inodoro. Al mismo tiempo, tiene hermosos colores y tiene un muy buen efecto de visualización incluso cuando la alimentación no está encendida.
| | | | | |
| --- | --- | --- | --- | --- |
| Install | Wall Mounted / Hanging | | Lamp Type | LED |
| Color | Blue & Yellow | | Input | 110-240V |
| Size | 395x195mm/15.5x7.6" | | Output | 12V |
| Weight | 0.85 KGS | | Wattage | 12 W |
| Material | Acrylic & Silica gel | | Switch type | Button |
| Backplane thickness | 6 mm | | Power Source | DC power |
At DIANYI DISPLAY, we have years of experience crafting led open neon sign to meet our customers' vision. From basic light box to full, large-scale light box that highlight your brand and location, our team of led open neon sign design staff have the knowledge base, tools, and experience to create what you need. We'll guide you through the entire process and communicate with you clearly at every step.

If you're from a company or brand that wants to collaborate with us or needs a large number of led open neon sign at wholesale prices, we'd love to hear from you. We can accommodate orders into the thousands.

led open neon sign ship worldwide! They include the power plug and voltage requirements for your country!